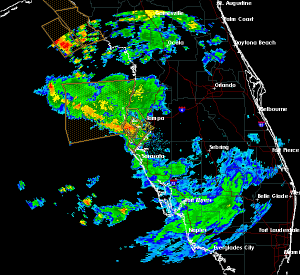 Some may have slept through parts of it, but many probably heard every crack of thunder in Pinellas County on Thursday morning. The rain poured down, the wind howled and the lightning flashed across the sky for a few hours. In Clearwater, a tornado touched down and caused damage to a few homes and power lines.
While all of that was happening outside, I pulled up an app that showed a radar image of the storm and its movement relative to my precise location. With just a little estimation, I could determine where the storm was headed and how long it would last for me. I had more information on my phone than Roy Leep had back in the day!
In contrast, can you imagine the uncertainty of a fierce storm in ancient days? The clouds and pouring rain darkened the sky and decreased visibility. People would scramble for cover not knowing how long it would last or even what was in store for them. Farmers would fear for the loss of their crops. Sailors knew that the wind could drive them off course quickly. If bad enough, any storm could quickly grow from mere confusion to destruction and death.
Jesus and His disciples faced that type of storm while on the Sea of Galilee.
Mark 4:37–41  And there arose a great storm of wind, and the waves beat into the ship, so that it was now full. And he was in the hinder part of the ship, asleep on a pillow: and they awake him, and say unto him, Master, carest thou not that we perish? And he arose, and rebuked the wind, and said unto the sea, Peace, be still. And the wind ceased, and there was a great calm. And he said unto them, Why are ye so fearful? how is it that ye have no faith? And they feared exceedingly, and said one to another, What manner of man is this, that even the wind and the sea obey him?
The great Creator stood in their midst and controlled the winds and waves with His mere words. What confidence and comfort.
Years ago, when I was in a quartet of preachers we would sing an old Mosie Lister song in concerts. I seemed to hear it drifting through my mind again this morning as the rain fell. The words are a powerful reminder that God not only cares about the storms that we face in this life, but He also is powerful enough to carry us safely through them.
In the dark of the midnight have I oft hid my face,
While the storm howls above me, and there's no hiding place.
'Mid the crash of the thunder, Precious Lord, hear my cry,
Keep me safe till the storm passes by.
Many times Satan whispered, "There is no need to try,
For there's no end of sorrow, there's no hope by and by"
But I know Thou art with me, and tomorrow I'll rise
Where the storms never darken the skies.
Chorus
Till the storm passes over, till the thunder sounds no more,
Till the clouds roll forever from the sky;
Hold me fast, let me stand in the hollow of Thy hand,
Keep me safe till the storm passes by.
Perhaps you are facing a storm…or anticipating one around the corner. Whether you can see how strong it is or how long it will last, be very sure that God is still stronger than the wind and rain. He loves His children and delights in walking us safely through the storm.