Thanksgiving was a bit different for our family this year. We traveled north to meet Justin "halfway" in North Carolina – partly to save him some travel mileage and partly to find a bit cooler November weather. As we enjoyed our time together in the Smoky Mountain region for a few days, we still felt a sense of absence. Our daughter Sarah is teaching music at International Christian School in Lima, Peru. We are extremely proud of her and glad for the wealth of experiences she is afforded there. But I still felt a bit melancholy saying "Table for 4."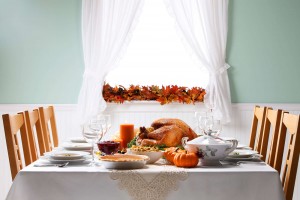 All of this turned my mind to our missionaries that have committed their lives and families to a foreign field. For many, this Thanksgiving was like so many before – marked by a great distance between them and loved ones. Many of them mingled their American holiday traditions with local customs the best they could, but still noticed far-away family missing from their table. Christmas will follow close behind with perhaps an even keener sense of separation. Sure, technology allows for "face-to-face" time on a computer monitor, but we all know that it can never replace a hug, a long walk around the block, or even quiet time spent side by side on the sofa.
The Lord addressed a similar situation for His disciples. Peter acknowledged that when they followed the Savior's call to become fishers of men, they left it all behind. Family, friends, careers, homes…
Jesus did not scold him for any selfishness, instead giving a promise:
…Verily I say unto you, There is no man that hath left house, or brethren, or sisters, or father, or mother, or wife, or children, or lands, for my sake, and the gospel's, but he shall receive an hundredfold now in this time, houses, and brethren, and sisters, and mothers, and children, and lands, with persecutions; and in the world to come eternal life. Mark 10:29–30
Honestly, the missionaries that I know are not hoarding up real estate, with vacation homes on multiple continents. Those who must maintain residences both stateside and abroad, do so of necessity and at great financial expense. Clearly, we understand the blessing of eternal life and rewards, but what about the here-and-now. Where are the multiplied properties, homes, and families?
Christ's disciples would meet, fellowship, and serve alongside innumerable brothers and sisters in Christ throughout their ministry. They would discover a spiritual family larger than they first imagined. While many individuals and communities would reject their ministry and presence, they would also discover open doors to hospitable homes wherever the Lord sent them. As God sent and led them, He would also be faithful to provide communities of support. I imagine the same is true for missionaries in our age as well.
It may not count for much, but I would like to personally thank those choice servants of our Savior who have left all to follow His call to a foreign field. Those who faithfully present the saving Gospel of Jesus Christ, often in less-than-ideal circumstances. Those who overlook or overcome the innate hindrances of language and culture for the sake of lost souls. Those who view empty seats at holiday tables and count them worth the cost. I consider it a providential blessing to call you my family and friends. May God richly reward you in this life and eternity.