As of today, Amos Alonzo Stagg holds the record for most losses in the history of major college football. Over his coaching career he lost 199 times! Interestingly, he also used to hold the record for most wins, until Bear Bryant passed him in 1981.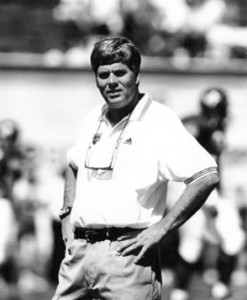 Sometime Stagg's long held record will fall. In fact, it could be as early as Saturday when Watson Brown's Tennessee Golden Eagles face the University of Northern Iowa. After last week's defeat, Coach Brown has struggled through 199 losses – with the next one likely to come at some point this season. Even though his teams have won 128 games, and he has led them to seven winning seasons, he will likely be better remembered for something far more negative – being the first coach to record 200 losses in his career. (Just to add insult to injury, his brother Mack Brown won a national championship at Texas in 2005.)
Watson Brown has been the head coach at several different schools including Austin Peay, Cincinnati, Rice, Vanderbilt, and UAB. Every time he came in with the goal of taking a struggling team or a fledgling program and making improvements. Sometimes he was able to do that, but never able to win more than seven games in a season. That adds up to a whole lot of "L"s on your résumé.
I read Watson Brown's story this week and was encouraged. Sometimes when you are trying to serve well, things are just a bit trying. This has been one of "those weeks" personally. A struggle or setback here and there add up quickly. When you experience an unexpected loss you need a pick-me-up.
"Wait…encouraged by a guy who will be remembered as a loser?"
In fact, his win-loss record is not the full story. What must be said about Coach Brown is that his players – present and former – speak highly of his character and influence. They appreciate his investment in their lives and careers. His brother's assessment was that Watson has always worked within the rules and guidelines. He's never been reported to or investigated by the NCAA for infractions. Never had a violation during all those years. For 29 seasons as a head coach, he has worked hard and done his job to the best of his ability.
The Apostle Paul would summarize his life of ministry this way: I have fought a good fight, I have finished my course, I have kept the faith: 2 Timothy 4:7
Recognizing the high value God places on faithfulness, Paul ignored the miles traveled, numbers of souls saved, churches founded, etc. Surely, these could be considered accurate measures of his ministry.  Yet, perhaps he understood that even if his ministry had taken a different course through the years – or had different results – he still would be considered successful if he remained faithful to God and His calling.
Maybe your week hasn't turned out like you expected. Maybe even this year or longer. Maybe your best attempts to serve the Lord or others didn't produce the results for which you had hoped. Perhaps you faced unexpected obstacles. Your attempt to witness was rebuffed by someone. Your efforts of service were unappreciated or ignored. The greater question is "Were you faithful to do what God asked?" If so, then consider your work a success.