Music possesses the mighty power to leave a lasting impact on our spiritual lives. Recently, I read about the background of the well-loved hymn, How Great Thou Art. Like many, this song is a special favorite because of its message and majesty.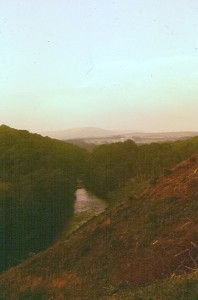 Whenever I see this picture, I feel an emotional stirring in my soul and sometimes tears come to my eyes. Certainly, it is not because of the dramatic visual impact of this photograph! After all, this is a digital scan of a Kodak slide taken almost 35 years ago by a young boy with a 25 year-old Ansco camera. The color and quality is poor, at best, even after being retouched. (Slides don't hold up as well as you might think). Yet, the strong feelings have more to do with the occasion associated with  this slide.
I remember as a 13 year-old boy spending my summer in Scotland working on a construction project with Teen Missions International. After several weeks of separation from home and family, long hours of laying bricks and digging trenches, and cold, drizzly weather, I was feeling low physical and emotionally. I took a walk late one afternoon to explore and was talking out loud to God about what I was feeling.
About that time I discovered this wonderful vista of the River Ayr winding between the rolling hills. Having been raised in Florida (elevation 15 ft.), hills and mountains of any size seem especially majestic. Combined with the emotion of the moment and the spiritual impact of sincere prayer, I felt an overwhelming impulse to sing. The only song that seemed right was How Great Thou Art. It has always captured for me the goodness and greatness of our God and still reminds me of the wonder of those moments alone with Him.
The psalmist sang that the Lord had "put a new song in my mouth, even praise unto our God: Many shall see it, and fear, and shall trust in the LORD." (Psalm 40:3)
No one was around to see or hear me out on that hillside in 1980. But our day-to-day purpose as God's children should be that others are seeing the evidence of His presence in our lives. They should be hearing our mouths filled with praise and thanksgiving for what He has done. It is not always accomplished by singing a hymn, although that is a wonderful privilege of our personal relationship and a vital component of our corporate worship. Rather, every word that comes out of our mouth should reflect our Savior. Even the countenance of our face can reflect Him.
What will your song be today?