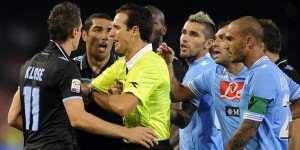 It made news. In fact, that one simple act drew lots of attention.
Two years ago in an Italian soccer match, the ball sailed in front of the goal and Miroslav Klose knocked it in. The problem was that instead of hitting the ball with his head, he hit it with his arm. One team celebrated while the other protested.
After a few seconds, Klose walked over and spoke into the referee's ear. He told the truth and the goal was cancelled. Members of the opposing team patted his shoulders and congratulated him, and the story of one man's honest act began to spread.
In contrast, Argentine player Diego Maradona is remembered for a goal that he punched in with his fist during the 1986 World Cup competition. When asked about that goal afterward, he evasively described it as "a little with the head of Maradona and a little with the hand of God." Almost 20 years later, he admitted on a television program that he had purposely hit the ball with his hand and knew all along that it was illegitimate.
Honesty is strikingly absent in so many realms of our society. We've all been hurt by someone's trickery or deceit. People distrust politicians (and others) because of broken promises. A man's word is no longer considered his bond. A handshake means nothing to many.
Years ago, Dr. Madison Sarratt, who for many years taught mathematics at Vanderbilt University, would admonish his class before a test with this thought:
"Today I am giving two examinations – one in trigonometry and the other in honesty. I hope you will pass them both. If you must fail one, fail trigonometry. There are many good people in the world who can't pass trig, but there are no good people in the world who cannot pass the examination of honesty."
As believers, we should be known for our integrity. Honest words. Trustworthy transactions. Honorable behavior. Consistent conduct. Through these traits we are able to fulfill our responsibilities as salt and light in the world. Commit today to demonstrate the change that God has made within you with every word and action.