A wife sleeps alone tonight.
In truth, she did that most nights as her husband patrolled the streets of St. Petersburg on the midnight shift.  Yet, tonight is different.  There is no hope that he will return home tomorrow morning, as he always did before.
This afternoon a dispatcher repeatedly called out over the radio to 143-Bravo, expecting only silence in return.  Just as at last month's funeral, every officer who stood at attention outside the church knew there would be no response.  Officer Crawford's earthly life ended a week ago when he was shot and killed on what seemed to be a routine call.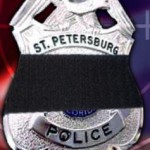 The brutal irony of that term.  Every police officer and sheriff's deputy understands that no call can truly be called routine.  The unexpected is part of the job.  The unseen lurks down every darkened street and behind every closed door.  The unknown can only be discovered by confronting the situation face to face.
Tonight, officers  from Squad 22 will once again patrol the streets, responding to the concerns of each citizen.  The same situation will play out in communities all across this nation.  Children will prepare for bed while their daddy puts on his uniform.  Wives will pillow their head praying that in the morning their officer will return home.  Thousands of others will sleep peacefully, never thinking about those that keep evil in check.  Those that nightly pay for their security with personal diligence.
Thank you to those who have given their life in service to our communities or our nation.  Thank you also to others who continue their service tonight – and every night.  Thank you from each us who sleeps secure.