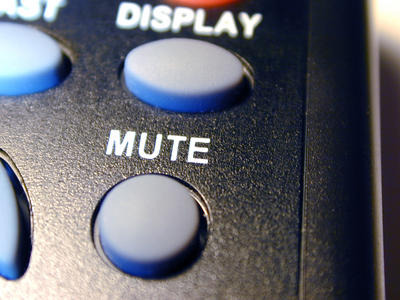 Sitting silently in the public library recently, I continued to hear the same voice loudly interrupt my study.  She seemed to talk to anyone who would listen.  "How's your wife?  How's your day?  What's new?"
Doesn't that lady know this is a library?  Where people like me can sit quietly and read!
She continued just as loud and more frequently:  "What are you looking for?  Can I help you find something?  Stop running in the library!"
Wait…what?  It was a librarian who was using her "outside voice."
It was a reminder that we live in an increasingly noisy world.  As I write this in my favorite Panera, Vivaldi is playing on the intercom.  A group of retirees at the table next to me are not afraid to let everyone know their views as they solve the world's problems.  A woman across the room is speaking on her cell phone to her friend (who has apparently experienced a significant degree of hearing loss).
In July Real Simple magazine published these observations about the abundance of noise (and the accompanying lack of silence) in our society:
Between 1975 and 2010 the average number of TV sets per household rose by 87% (from 1.57 sets per household to 2.93).
Out of approximately 111.8 million households recorded in the 2009 Housing Survey by the US Census Bureau, about 25.4 million (almost 25%) report being bothered by street noise or heavy traffic.
In a 2006 Pew Research Center poll, 82% of those who responded said they had encountered annoying cell phone chatter in public.  (Not surprisingly, only 8% felt that their cell phone habits were irritating to others.)
The article includes a quote from George Prochnik, who wrote In Search of Silence.  He asserted, "I think we're seeing noise tied to a host of problems of the age – problems of attention, aggression, insomnia, and general stress.  Noise is now the default position as a society.  But I believe we have to make an effort to build a passionate case for silence."
Our world leaves us precious little time or space for contemplation.  Science declares that the human mind requires a suitable environment to consider options and solve problems.  Experience tells us that we need somewhere to unwind from the busyness of life.  However, there is also an obvious spiritual connection.  Do we have time to be still and know God?
In The Spirit of the Disciplines, Dallas Willard writes of the resistance he met when first teaching about the need for solitude and silence.  The critics cried, "Too ascetic!  Overly monastic!"  Even today conservative critics warn that such practices sound too mystical.  However, the psalmist surely appreciated his quiet time with the Lord.
When I remember thee upon my bed, and meditate on thee in the night watches. Psalm 63:6
Now our "night watches" are filled with sit-coms, talk shows, or our favorite playlists streaming through earbuds.  Another example of our problem can be found in the increasing numbers who spend devotional time on a handy electronic device.  Nothing wrong with that, especially if the convenience increases frequency and faithfulness.  However, have you ever been tempted to click over to check for email or status updates in the middle of your study?   Multitasking can provide an efficient work process, but it's abysmal for spiritual growth.
Do we believe it requires too much effort to get away from the clamor around us?  Is it simply the nature of a society that revolves around entertainment and consumerism?  Is it a fear of being alone that draws us to noise and crowds?
Regardless of the cause, the solution is to designate a portion of each day to meditate on the things of God.  Quietly contemplating what we read in Scripture and waiting on God before we move on to the next of today's demands.
Remember Jehovah's instruction to Joshua and its accompanying promise:
This book of the law shall not depart out of thy mouth; but thou shalt meditate therein day and night, that thou mayest observe to do according to all that is written therein: for then thou shalt make thy way prosperous, and then thou shalt have good success. Joshua 1:8
Way back in 1988 Randy Stonehill sang:
It's an awfully loud world in an awfully small room,
And it gets so much you can't hear nothing else, and not a soul is immune,
It's an awfully loud world screaming louder each day,
We're crying, "Cut it out, shut it down, someone make it please go away."
The mute button is in our hands.  Perhaps it's time we use it more frequently.
What about you?  Do you have a special time or place where you get away and meditate on the things of God that you'd like to share?